Discover more from Introvert Drawing Club
Live drawing sessions for everyone. 🌻 Playful art prompts and tips to keep you excited about creating art. ✏️ Workshops with visiting artists, illustration advice, and feedback from a kind, supportive community.
Over 3,000 subscribers
Join a special coworking session with
and
!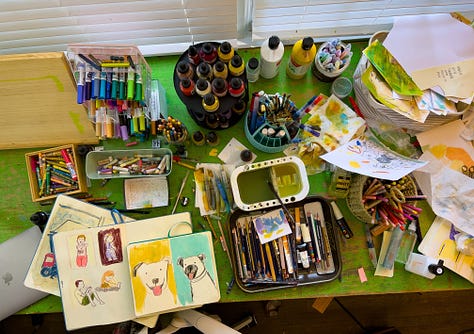 Sign up at the bottom of the Upcoming Events page to get the link to join.
What are we doing?
We'll sign on at 7 am sharp and have a very quick chat about what we're doing. Then I'll start a timer for 1 hour of focused productivity!
Coworking sessions have been brilliant for writing and editing. I painted a few pet portraits in one too! On Monday I'll tackle the beast that is cleaning my studio! I hope to unearth some hidden gems and hideous drawings to share with you at the end.
If you don't hear from me on my usual Friday post, it's because I've gotten lost cleaning mountains of dog hair and pencil shavings.
Talk to me!
What do will you cross off your to-do list Monday?
😺👉A heads up -- the cost for membership increases in September.
If you join now you'll lock in the $7 price. You'll have access to drawing sessions, replays, and all the drawing activities forever.