Protect your brain space
Tips to resist the siren song of the smartphone for when you need to focus
You're working on character development. A sexy smart phone buzzes with the promise of delicious dopamine hits. That's why I checked my email 3 times since I started writing this!
Let's put some intentionality behind using our devices. Join me!
4 ways to protect your brain space:
Practice self awareness - Set a timer for 5 minutes, sit, and focus on your breath a few times a day. This will help you notice the urge to check your phone, so you can resist it.

Built-in timer in your phone's settings - If you're a rebel like me, you'll just bypass it. If you have self control, this could work brilliantly!

Make your device invisible - Leave it in an inconvenient place for hours at a time. Out of sight, out of mind!

Put a colorful rubber band or ribbon around your device. It serves as a reminder not to look, and makes looking a little bit annoying.
Atomic Habits author James Clear asked his spouse to change his social media logins. I don't believe I've reached that level of desperation, but I'd like to propose a challenge:
I'd like to shave off an hour of screen time a day next week. Are you with me?
How will we do it?
The same way I remember to give my cat a pill every day. Reminder and timer.
Set a reminder to go offline for 1 hour.

Leave your phone in another room so you can't reach it.

Repeat it every day next week
Tell me how much time you'd like to go offline each day in the comments below.
I've also started a thread in the chat to help us support each other's intentions. Feel free to share screen time, your intention, and/or how you plan to stay focused next week.
How does time away from technology help with art?
Making art brings your inner world onto a page. If that world is full of TikTok and Instagram, it's going to influence how you make art.
Stepping back from social media helped my friend Cassie recalibrate her input. She also reclaimed three hours a day to practice and play in her sketchbooks!
Let Cassie's beautiful work inspire us to step back and be mindful of what we're taking in.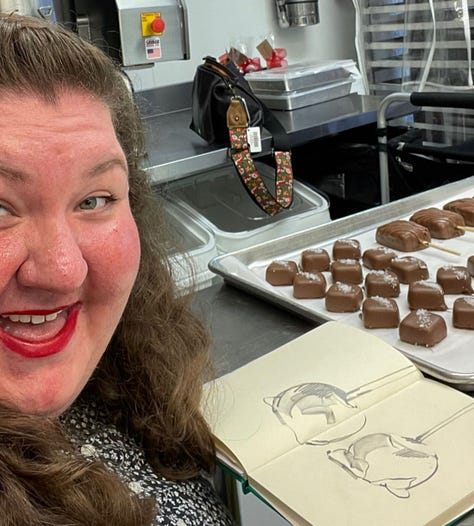 I'm still drawing a ton everyday, but I need deeper focus for my next project. In the video below, I share a tour of an A4 Royal Talens sketchbooks I filled last month.
This post is for paid subscribers